Editor's Note: Recorded December 7th, 2013 on the eve of Charanjit Singh's first club show in Mumbai, India, this interview remained unpublished until today.
It's 3:30pm on a Saturday afternoon at H20 in the queen of Bombay's suburbs. Charanjit Singh, a septuagenarian recently in the spotlight for possibly being one of the originators of acid house music (yes, it's a stretch), is late to his soundcheck and they've gotta be outta here by 4. The Re-emergence of Charanjit Singh has been, so far, delayed. Because of that, the interview that was supposed to be conducted in the quieter confines of the restaurant next door will now happen in the lobby of the Royal Inn within earshot of their nightclub H2O, with frequent interruptions from an early-evening birthday party blaring out Rihanna and other Top 40 hits much to everybody's displeasure.
Just shy of 4pm, a sedan pulls up and out come Charanjit Singh, his wife Suparna, his manager Rana Ghose and Grime Riot Disco's Kunal Lodhia. Rana is filming the Singh's arrival to the club; it's quite an occasion after all – it's his first show in his home city playing out his Synthesizing: Ten Ragas To A Disco Beat record live to a largely Generation-Y audience that's never heard it before, much less known of the man's existence. All of this comes after a summer spent playing some of Western Europe's biggest clubs including hallowed ground such as the Berghain in Berlin, the smaller Kantine am Berghain if you want to specific.
Rana mentions to me outside that he isn't sure how Indian audiences will respond to the set (the Europeans went nuts). We've lately gotten so saturated with every common form of dance music out there, 10 Ragas here, rooted in Indian classical and then powered by the Roland 808's rhythmic sensibilities and the squelchy, aqueous 303 bass, all manoeuvred live, is a new offering and there's currently nobody locally employing the kind of classic analog power that Charanjit Singh will tonight.
"I started using this stuff in '82. In 1980, I went to Singapore and bought all that equipment. In '82, I recorded." says Singh, of his first experiments acid music's holy trinity – Roland's 808, 303 and Jupiter 8. With just over a month's worth of practice, recording 10 Ragas To A Disco Beat took all of one week. And just like that, it was in the past. "When we released on HMV in India, there wasn't much of a response. Releasing in Holland was better, more successful, Mr. Edu Bouman (a Dutch record collector) really helped push the record in Holland. And then we started playing live shows. Prior to this, I'd recorded a lot of film songs – Kishore Kumar, Laxmikant-Pyarelal. I also did one live show where I played accordion."
Charanjit Singh's been playing some intense live shows around Europe at a mix of big and underground and big-but-still-underground clubs. Glasgow's La Cheetah saw a performance, Teater Grob in Denmark saw one too courtesy of a Red Bull Music Academy Session with rapper Heems, Amsterdam's OCCII, the Bonnefooi in Brussels, and of course, the Berghain along with another pioneer A Guy Called Gerald (interviewed here). According to Singh's manager Rana Ghose, they'd already done about 20 shows before the Indian debut. As with most dance music, and especially when playing to crowds in Western Europe, success generally computes to more people staying on the dance floor, and in Singh's words, "Our live shows were very successful. People don't stop dancing, they just go on. If I ever I ask "Can I do a break?", they say "No! Carry on! Don't stop." But I have to change the raga, there are different notes (laughs). They don't understand, they just want me to carry on."
When I ask him if his live set is best experienced start to finish, he gives me that look and nod of "Obviously, man". In his all-analogue live show for The Re-emergence of Charanjit Singh, there's a firm lock on the drum kit's tempo, bass lines tend to remain unchanged for long periods and variations come slowly, usually one after another employing the classic house and techno trope of building up/stripping down. Even though Singh and I nonchalantly discuss the banality of coming to the club one hour into a two hour set, he knows his live performance of Synthesizing is best experienced like a journey, something Europeans who've been to his recent shows have been incredibly aware and supportive of. He's more or less aware that's not how things work in Bombay. Unfortunately, and this is a wider comment on acceptance in the independent music scene in India, quite a few people are going to turn their noses up at something so terribly "Indian" without second thought.
Johanz Westerman accompanies Singh on tour, triggers some of Singh's beats and accompanies him behind all that equipment in their live shows. He's sat right next to me at the restaurant next door, and happy to talk to me about his role in The Re-Emergence of Charanjit Singh. "I play the drums (808) and bass (303) and I work the mixing desk. I take these original bass lines from the record, and we recreate them with only slight differences, make some variations and this is all a big part of the live show. First I was at the mixing desk mainly, that was my main instrument." Westerman tells me.
I'm curious about Singh's and Westerman's dynamic on stage. "We did a few tours in Europe and it was really great, it's growing all the time. The music is improvised and a lot of things are intuitive, so we really respond to each other. Every show we'll have some points where we do things we never did before. And I like that it's intuitive. I think it also suited to the idea of the raga. You have the scales which you stay within but you improvise and make your own thing with it. The true spirit of what we do is improvising with really minimal ingredients – I use only one rhythm actually and I'm making many variations on top." says Westerman.
Charanjit Singh started off his tour abroad playing his instruments and performing solo. Back then, his management had a plan in place but, "Pretty soon, they learned that it wasn't the best idea. First he was alone on stage and we liked the idea of him being up front. Since he was the creator of original music, we wanted him to be shown, and it's also interesting for you (the crowd) to see this guy with the machines. But it wasn't working. The record was also not made in one go, there's overdubs and parts that have been cut by an engineer. Especially for live it wasn't working. He can't do it alone, can't work the 808, 303 and work the keyboard at the same time. He could but then he'd need to have many hands like that image of Shiva. And I've checked many times, Charanjit Singh has just two hands." Westerman said.
Our man here is blissfully unaware of his supposed impact on acid house for his unrelated explorations of the genre stopped then and there – the lone 1982 record. In fact, 10 Ragas is probably more Indian disco than it is anything even remotely acid house. If the album were to ever go down as a true originator of that specific sub-type of music (unlikely, and a subject that's always in contention), chances are you'd hear a song or two off the record in passing at most, perhaps used as a reference between a couple of hip techno kids talking history, but you'd rarely get to really know Charanjit Singh. You honestly can't expect the 70-year-old to tour regularly on the back of a 31-year-old record and other potential releases, given his age and all. But European tours and international hype notwithstanding, the system suits Singh perfectly for now, "Next time, I'm planning something different. I've got something starting next month – Folk songs from all over the world, different songs from Africa, so many Indian languages, Punjabi, Gujarati. To a disco beat." And yes, the man insists on playing live. He of all people knows record sales don't count for much.
Our condolences go out to Mr. Singh's wife Suparna and their family. Have a gander at this picture below of the late Charanjit Singh rocking out a capacity crowd at Lowlands, and listen to a clip from his live set from the day. Go here to listen to Synthesizing: 10 Ragas To A Disco Beat in its entirety and here to buy it.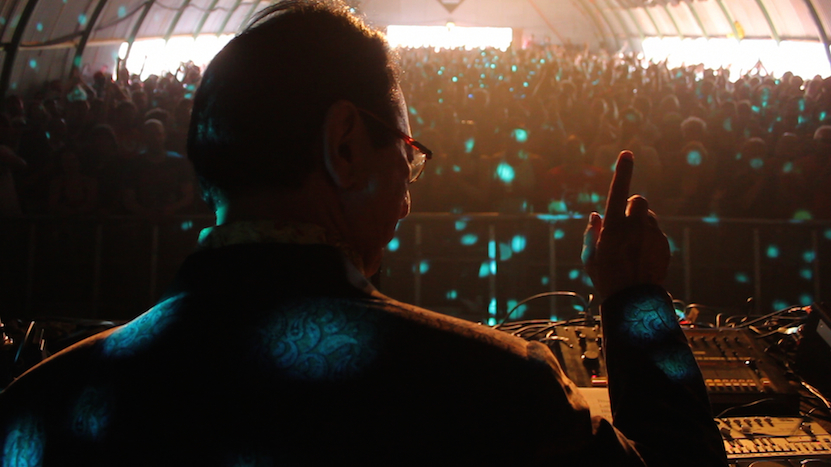 Words by Abhimanyu Meer