Cesar Merveille has long had an appetite for art, jazz, fine wines and good times, and his musical palate is equally refined. Cesar traverses styles from house and techno to Latin and tribal funk: From his uplifting 'Chocopop Jazz' track to the downbeat ʻMaayancholy' featuring Guti, which was remixed by Luciano and released on Cadenza. From recording for Circus Company, Safari Electronique, and Wolf + Lamb, to fusing grooves on Visionquest with label co-founder Ryan Crosson. Cesar's sound is always evolving, always challenging, always turning heads – and it's getting louder every year.
You started your career in London's much-loved T-Bar. Their line-up over the years seems to have had everyone from the house-techno world & everything in between, how much of an influence was that for you?
T-bar had a huge influence on me. I was there all the time until we got a residency. I had the chance to hear so many different and amazing artists; it really opened my music taste. It's also a great family. It was such a pleasure and honour to have been part of it.
Your earliest music influence was jazz being played around your home. How did you end up falling in love with the guitar? The piano or sax or trumpet or clarinet seems like more 'jazzy' options.
My parents were into music but didn't push me to learn any instrument. I started to play the guitar when I was 14-15 and discovered jazz a little later. I was fascinated by the way songs were arranged and played, it broke all the more traditional ways of the pop and rock I was listening at the time. I find it very inspiring.
Considering that an artist pours all his influences into his art, did your graphics and media background / visual design company help in developing a more nuanced aesthetic / getting more varied inputs into your work?
Yes, it definitely did. The creating process is very similar but with different tools. I've always been interested in artists that combine both arts like Christian Marclay. A visual can inspire music and vice versa.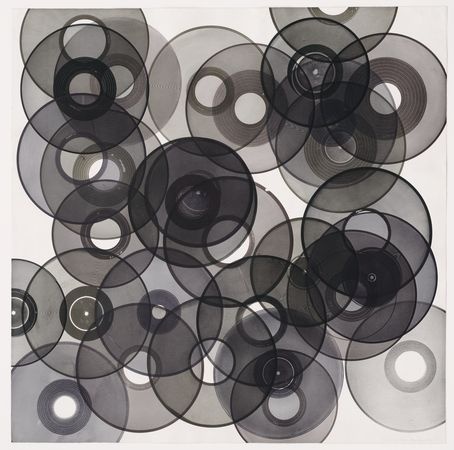 You've lived in three major European capitals moving from Paris to London and now Berlin. Do you have a favourite city?
I love them all for different reasons. Paris is where I was born. It's such a beautiful city. I love walking, going from cafes to restaurants and jazz clubs, it has some of my favourite museums too. London is where I spent all my 20s, developed my music, it really became home. I met most of my best friends to date and definitely had the best parties! I'm now in berlin for two years and it's more relaxed, there is space and time, I can afford a much better place than in London. It's a different pace and I really enjoy it.
Can you tell us a little about your process of crafting Chocopop Jazz and how you came about sampling Dave Brubeck for the tune?
I was in Ibiza at the time I did this track and I was very inspired by a lot of music I heard and wanted to implement some jazz in my production. One night after coming back from a party I decided to randomly select a jazz track and no matter what I picked I would have to make something with it. It was a bit of a challenge to myself, thinking that I should be able to do something out of anything. It proved very difficult because the time signature of the track is 5/4 so if you have a 4/4 rhythm, it creates clashes. But I stuck to my idea and finished the track.
Again and Again on DRM sounds like a cacophonous alien jazz spaceship flying through a bleepy techno galaxy. I read an interview with Ryan that said you'll have 27 versions of that tune. How hard is it considering all your jazz affiliations that you have to pen down one final version to make the cut?
For Again and Again, we had a lot of versions but we were not entirely happy with all of them. The last one was the best of them and the choice was easy to make. But otherwise I find that the first takes are very often the best ones even if they are not perfect. They have the momentum, which is the most important.
What is it about Circus Company that attracts so many of the live electronic performance artists? How did you first meet with the crew and pitch your tent there?
My friend Thomas Murphy was one of the founders of Circus Company. We started hanging out when I was still living in Paris in early 2000. He's the person who showed me how to make music. What they were doing at the time was very new for Paris and I was really excited by it. We released a track together, and I was going to all their parties. That's how I got to meet the rest of the crew. I really like their approach to music. It is very sensitive and the live element plays an important part in it. When you play live you don't produce music the same way that a DJ does. I find that it's usually more open and playful, there's a different touch. It's not entirely true for everyone but I see it a lot.
Is it serendipitous that you and Ryan Crosson became tight after he came to live with his girlfriend in London who is a your mate. What do you think is crucial in a musical partnership?
Ryan and I really good friend from way before that – I used to book him six or seven years ago in London and that's how we met. We've been very close ever since. Making music together is a pleasure because we're both adventurous and open to each other's ideas. It's very exciting because we challenge one another to get out of our comfort zone in order to try to create something new.
Crosson has said in interviews that you'll share a common love for jazz and hip-hop. Since you've already spoken about jazz, tell us about the hip-hop.
For many years I was listening almost only to hip-hop. From the age of 14 I guess. I grew up with Pharcyde, Busta Rhymes, Wu-Tang, De la Soul, Talib Kweli, Gang Starr, Cypress Hill, Mos Def, Jay Dilla, Ntm, Oxmo Puccino, IAM, to name a few. My favourite years of hip-hop are definitely the mid '90s though.
Do you approach your DJ sets in the same way that a musician might approach a jazz solo? Do you see the production and DJing bits as part of one big picture puzzle?
Producing and DJing are two very distinct things. Nowadays, you have to be a producer to be able to DJ and it's a terrible mistake to think like that. Not all good producers are good DJs and vice versa. They are two different art forms that require different skills..
Article written by Kenneth Lobo