Often enough, the expanse of the Internet will throw us a juggernaut, which, in our world, is a creative and musical force that is just simply magnetic. This one right here came around via a Boiler Room video from Serbia in the form of a house, disco, new-wave/rave producer who fittingly enough has no name yet multiple identities. In a musical atmosphere often bursting with raw talent, it's become doubly hard to use a filtration system while picking through what's good, what's great and what's excellent and worth throwing our weight behind. It's in the spirit of the latter pair that we decided to approach this self-sustaining Serbian anomaly, and soon enough, we found ourselves in conversation with "it". Without further ado, meet the island known as X-Coast.
Tell us something about where you grew up and how music came into your life.
I was born and grew up in Novi Sad (Serbia), during the '90s. Things weren't so happy back then. Balkans was a war zone and people still feel the consequences of these happenings in their everyday lives. I think our economy will never recover from the moves drawn in that period.
I started taking piano lessons when I was 8, but the turning point for me was when I got some tapes from my neighbor back in '96. I was only 10 back then, but I was immediately drawn by the energy of early rave, gabber, and later on jungle. I still have those Prodigy albums and Thunderdome compilations on my cassettes.
In January 2000, I picked up a demo version of Propellerhead's Re-Birth, which basically was 1 x Roland TR-909, 1 x Roland TR-808 and 2 x Roland TB-303. Even though I could not save my work and had to exit the demo application after 20 minutes, I played around with it fanatically. The idea of making my own sounds in there was just incredible.
Please enlighten our readers a little about the island known as X-Coast.
X-Coast is an island in the Caribbean. It was accidentally discovered by Frank Sanders, who survived a shipwreck in '94. The island is populated by natives who accepted Frank and he started to teach them about modern culture, using everything he could salvage from the ship. X-Coast is a peaceful healing place. The rest of the story is told through soundscapes.
You've just released 'XTC V'. The use of that First Choice sample ('Let No Man Put Asunder') is fantastic. It sounds BIG, and honestly, I really think this is what good club music was meant to be. In fact, all of XTC is just an amazing trip for a listener/dancer. What is next after XTC V? Will you change things up and do a different style again?
Very good sample spotting! Thanks.
Yes, the XTC Files series is meant to be instant euphoria on the dance floor. I am currently working on a new track for the Dub series, but at the same time I am experimenting with a lot of stuff and working on a track which will resemble the 'Apocalypto' tune (listen), which you can check on Soundcloud. I like to experiment with different styles. I even have a theory that artists will give their best when trying to produce something for the first time. When you start focusing on a specific genre, you cannot deviate from following patterns, based on you experience – when you try doing something for the first time, you let the vibe carry the workflow, the excitement is at a max and you are likely to give the best results.
Aside from all the X-Coast music out on available channels, we've also checked out that Boiler Room session in Belgrade (which we absolutely loved). We heard lot of retro-ish sounds there that remind us of Duran Duran, Japan, Tears For Fears and bunch of other '80s new wave bands. Did those bands form a big part of the X-Coast musical direction?
I think that everything an artist listens to has to reflect on his work, even subconsciously. I have never been specifically into new wave bands. I always was a rave kid, but I guess I listened to some '80s music digging through my dad's record collection and listening to the radio.
The idea behind X-Coast music is to make something new, relying on stereotypes which the listener gathered from previous experience. This way I am aiming for an instant connection between the music and the listener, making X-Coast music easily consumable from the very start.
Under your Roy Fokker alias, you're producing all of this great, left-leaning house-y dance floor music. Will any of it ever see digital or vinyl release?
I don't know. Honestly, Roy Fokker is in an artistic coma for some time now. I don't feel an urge to write a Roy Fokker track.
At this point, it's all about X-Coast and DJ SKINS.
Skins is a bald head gabber dude who wears a gas mask while performing. He did a soundtrack for a Serbian hooligan movie Varvari, and he is making a tune for Vojvodina football club from Novi Sad. You can check his only tune on the internet here.
For our equipment junkies, can you tell us what kind of equipment do you use when producing music in-studio? And what is your live setup like?
My studio setup is: Cubase + Reason as sequencer, Korg R3, Roland SH-101, some other synths and gear i usually lend, and a lot of old school sample CDs
My live setup is: Ableton Live, Korg R3, Evolution UC-33 and a few extra gadgets to get the X-Coast vibe going at the venue.
In December you played Illectricity Festival alongside Jackmaster and Om Unit. How did the crowd respond to the X-Coast set? 
X-Coast has a lot of great fans in Croatia and that live show was surely the one to remember. The place was packed. I was on at 4 AM, after Jackmaster. About 10 or 15 minutes through the show, the cops raided the warehouse and we had to turn the music down. However, there was an afterparty scheduled at a very cool club Sirup, also in Zagreb, so I took some headphones, plugged them into the mic input in the DJ mixer, and instructed everyone to go to Sirup, where the party was already underway. I packed my gear, left for the club and ended up playing the live show from 5:30 – 6:30 AM in front of 300 ravers. A bunch of people was waiting outside and couldn't come in, hence the limited capacity, but the atmosphere was great and definitely more intimate than the warehouse with the big stage.
Check out X-Coast live at Serbia's first-ever Boiler Room show.
What is your reason for keeping such a low profile? And what are you reservations about mainstream music in the current musical atmosphere?
I am just against self-promotion. If the music is good it will find a way (I am from Serbia and now I am answering interview questions for a crew in Bombay, so there you go). How did you find about X-Coast?
I had a few different music projects over the years which became boring to me and I just decided that with X-Coast, I'm going to let it develop on it's own. The island is there, if you look for it. I think this is the way to keep it pure, and also interesting for me to continue working (this is probably the most important thing)
Is there a real scene for alternative music coming up in Serbia? What do you like from within the country and what can you recommend our readers check out?
The alternative scene in Serbia is struggling and it's mostly focused around Belgrade. But it is in the nature of the alternative to struggle, so maybe this is good 🙂 There are two really cool clubs that you must visit, 20/44 (a boat) and Drugstore (a warehouse), which host great nights with resident crews like Mystic Stylez, Idemo na Mars, Disco Not Disco, Beyond House and other guests.
Regarding local producers and friends whose work I like, I can recommend checking out Boris Noiz (aka Lost in the Sound aka Ontal), Lag, Jackie Dagger & Feloneezy.
The X-Coast Facebook page has a lot of really interesting artwork. Have you made that yourself? Are there any visual artists that you look up to? 
No, I'm not a visual artist. I just collect artwork that reminds me of the vision of X-Coast I have in my head. But the visual component is very important, since it makes X-Coast music more specific.
Some visual artists that inspire me are: Sara Ludy, Bionik Bastard, Cody Sampson.. and I can't forget to mention my great audio-visual inspirations The Future Sound of London and the X-Mix series.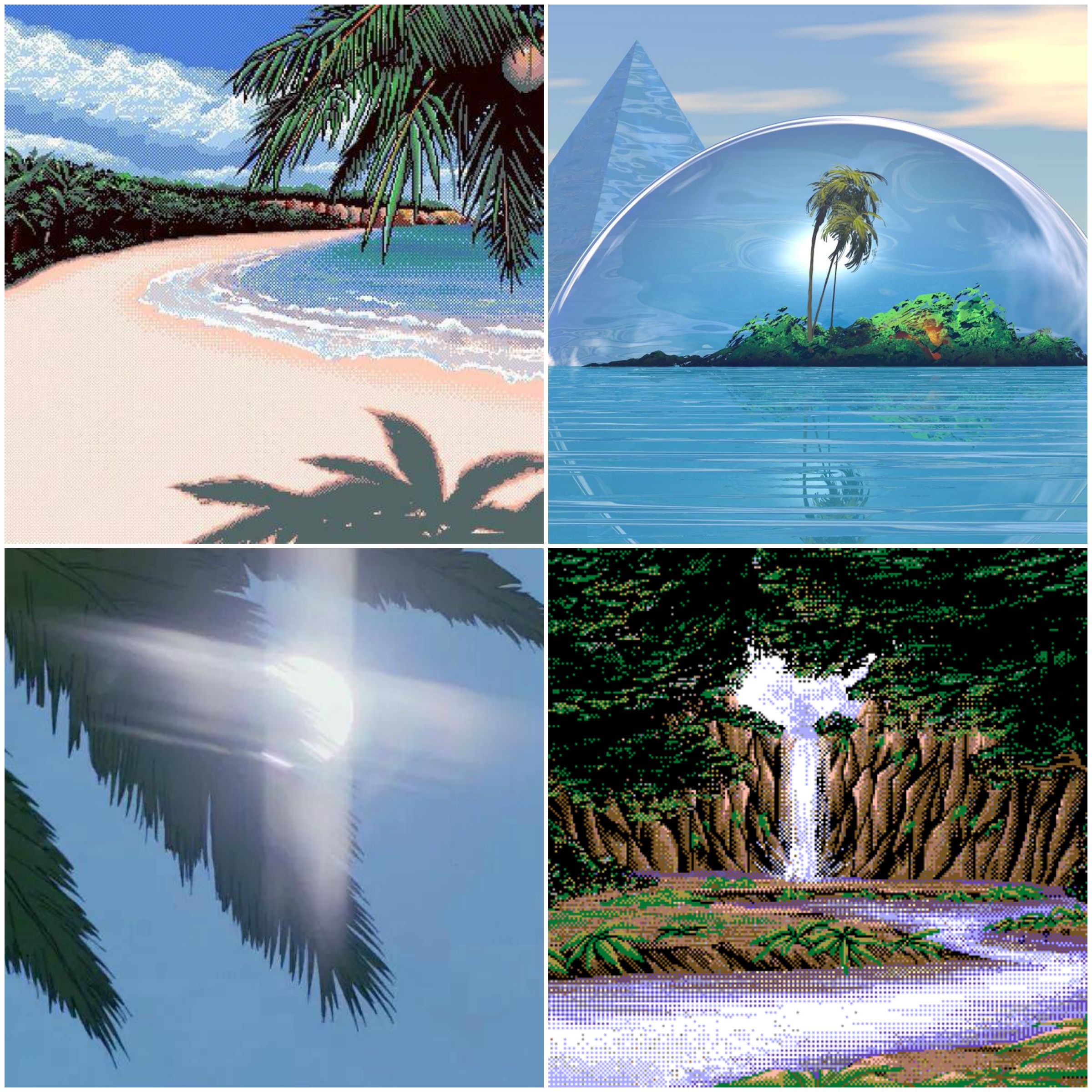 Where do you look for inspiration when writing new music?
It's easy – the X-Coast island was made up in order to provide inspiration. It is a safe place where I can work, and every track is like a landscape or an event captured on the island.
I look at a bunch of old Caribbean tourist resort videos. That helps a lot too.
Here's a brand-new X-Coast tune for the lovers, released right in time for this recent Valentine's Day (of course).
Connect with X-Coast via Facebook, and Soundcloud. Check out more interviews here. 
Words: Abhimanyu Meer