Apart from a packed line-up that features some exciting artists like Floating Points, Dorian Concept, Helena Hauff, Superpoze and Sarathy Korwar, Magnetic Fields draws attention to some of India's most creative start-ups, performers and visual artists.
The fourth edition of Magnetic Fields reiterates its position as India's premier music and arts festival with its focus on curating the best performers and visual artists from India, alongside some of the freshest sounds from around the globe.

Attendees will get to see dance music virtuosos like Floating Points, Roman Flügel and Dorian Concept, alongside young emerging artists like French electronica artist Superpoze and Sarathy Korwar.
With just days to go for the festival, Magnetic Fields has added more names to an already-packed line-up. German-Chilean beatsmith Flako, who visited India earlier in the year, will play at the South Stage.
But, as usual, music is just part of the reason why Magnetic Fields has grown by nearly 400 per cent from its first edition in 2013.
2016 sees the inclusion of Magnetic Words, storytelling element and a collaboration with Delhi-based The Piano Man Jazz Club, alongside showcasing some of India's most stimulating creative start-ups and visual artists. In partnership with Border Movement, a long-standing collaborator of Magnetic Fields, the festival will also showcase four visual artists, three Indian and one from Sri Lanka.
This year, the palace rooftops will also host the strains of the sarangi and songs of Manganiyars, who sing about Alexander the Great, battles of yore and Hindu deities.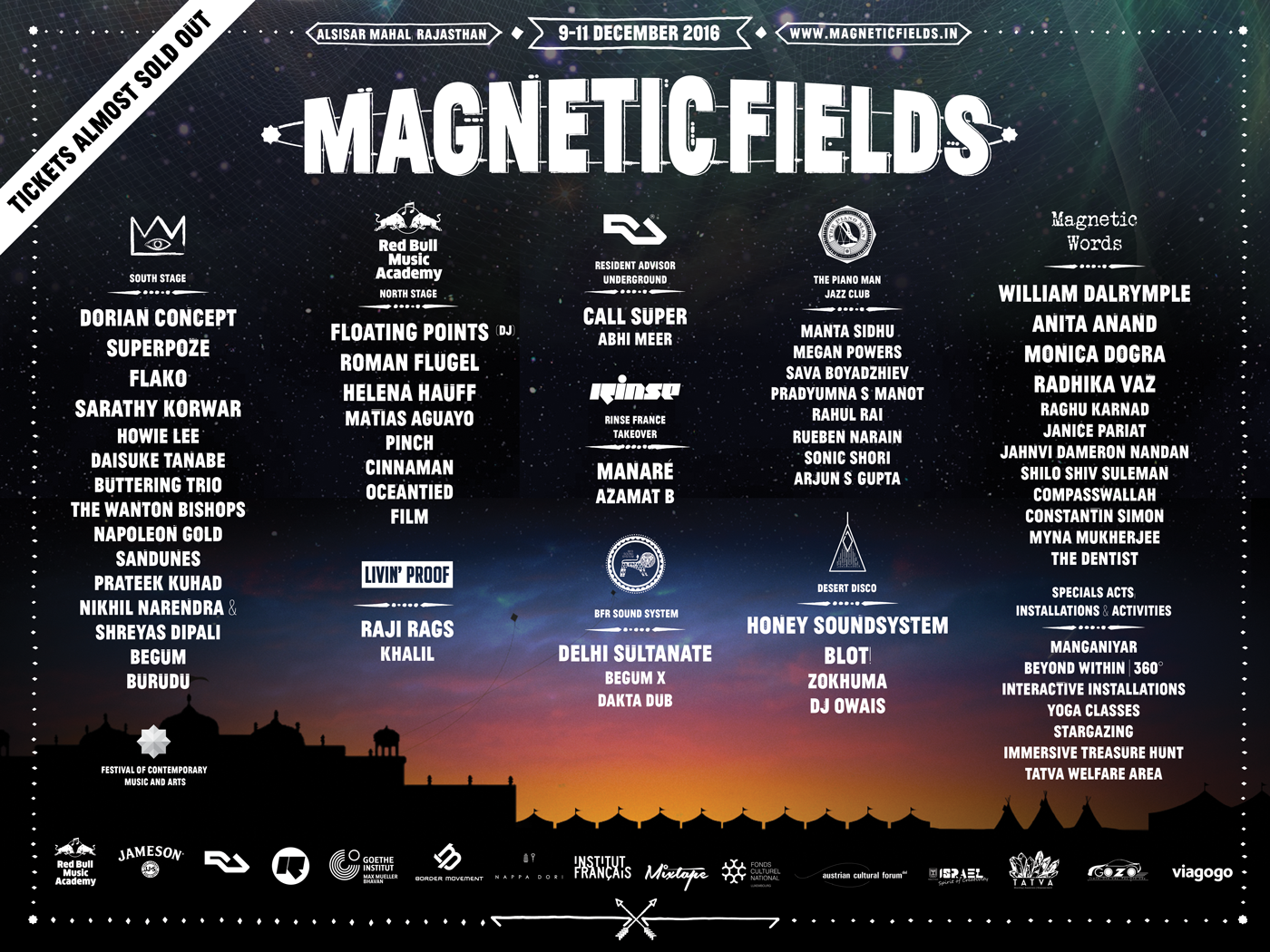 Decoding #MagFields2016
The theme for 2016 is "navigation", drawing on sound and vibration to navigate the realms of space and time using the sacred knowledge of ancient astronomers, alchemists, mystics and mathematicians. The festival aesthetic – using materials like reclaimed wood, bamboo, handmade paper and muslin – will illustrate the theme.
Art installations and activities
Pulse and Bloom, an interactive and social art installation that visualises participants' heartbeats and invites people to share and sync their human heartbeats in a rhythmic pattern, will make its way to the Alsisar desert this December. Pulse and Bloom is one of the largest biofeedback installation of its kind and has travelled to festivals around the world, including Burning Man.
Mirari, an art installation by Pune-based makers Arghadeep Sarma, Ankush Misra and Ankit Tatiya in association with Makers Asylum, has been imagined as a kaleidoscopic tunnel that people will walk through.
SHED, a research and design studio from Surat that was featured at the London Design Festival earlier in the year, will showcase traditional games from India like chess, chausar, tower of brahma that have been rendered into collectible pieces.
Like the mural conceptualised by Shiv Shilo Suleman and painted with the help of local artisans last year, this year also a part of the village will be taken over by artists Joey Barker, Kahili Young, Ankita Trivedi, Preetal Dongre and Danny Darkoski from Vaayu's Vision Collective to create a giant mural.
Art studio Timeblur will reimagine their award-winning project Nadi for Magnetic Fields, where motion-captured body movements become gorgeous visuals. These visualizations range from distorted waveforms to generative radial patterns and willowy particle trails, all tweaked and transformed based on the pose and the person.
What else can you do at #MagFields2016
Wellness is a strong theme at this year's festival and from morning yoga sessions to gluten free food and Juice Up detox juices on site, health conscious revellers will not have reason to complain. Wellness experts Tattva, who were also the festival last year, will provide a safe space and a listening ear to those looking for a moment of peace and quiet over the weekend.
Now a firm Magnetic Fields favourite, the stargazers will set up camp and their telescopes on the palace rooftops just in time to catch the Geminid meteor shower.
Also returning this year is henna art by Toko Mehndi who is inspired by architecture and patterns from all over the world, and the much-loved Nappa Dori treasure hunt.
Like the music, the food at the festival will also be a memorable highlight. There will be Asian street food like dumpling and baos, New York style pizzas, delicious gourmet sandwiches made with the freshest ingredients and modern Indian food alongside festival staples like waffles and French fries to keep the stomach and taste buds happy.
Magnetic Fields goodies
A ready reckoner and a worthy collectible, our specially designed festival guide returns this year too. The guide holds clues as to how to best enjoy the Magnetic Fields experience, with puzzles and maps leading to the secret areas and parties. The guide will also serve as a memoir of a guest's time at Magnetic Fields with blank pages where you can scribble your thoughts, experiences and schedule acts-you-can't-miss. And there might just be a few surprises in store.
More information & Full Line up :
www.magneticfields.in