RESET is probably the only show currently in India where you can go experience a sonic journey akin, at least in function (no pun intended), to what you'd probably experience at one of the world's super clubs. Strutting the only, albeit temporary installation of the hallowed Funktion-One in the country, RESET's multi-DJ showcase tour, if word on the street and among closely-knit dance music circles is to be believed, is already stuff of legend.
RESET's first show in Hyderabad saw more than a thousand fans in attendance on November 1st, and there are three more shows lined up already, with the next one this weekend (November 15) in Bangalore, followed by Pune (December 6) and Chennai (December 13). Here's a little taste of what went down in Hyderabad earlier this month.
Both UnMute Agency and Phoenix Live, the hands-at-work behind RESET, have chosen to highlight the work and efforts of home-grown producers and DJs, and the showcase has been delivering on its promise of introducing fans both old and new to the sounds of the underground. UnMute's Dev Bhatia said of the first show,
RESET Hyderabad was great for us. In terms of the production and experience, I think we upped the notch quite a bit. We got a lot of positive feedback from the fans as we worked on every little thing from the visuals, light rig and even the food and bar menu! With RESET, experience is the key. Artists on the other hand are always excited about RESET, we involve them in all stages of the showcase and they are more than happy to help.
RESET's next showcase travels to Bangalore and will be held at CounterCulture with a lineup that includes Kohra, BLOT!, Praveen Achary, Tuhin Mehta, Jitter, Audio Units, SHFT_, our very own M.MAT, plus new techno acts like TechnoMads and Twokid Wickid. RESET have also reached out to upcoming DJs and producers with a DJ competition where four winners will perform the first pair of back-to-back opening sets on the night. From Bangalore, Mental Machines, Weird Sounding Dude, Jaleo and Kwartet made the cut and will open RESET's garden city showcase on November 15.
Tickets to RESET's upcoming showcases are available via Insider.in. For updates, follow RESET on Facebook, and check out Saturday's schedule.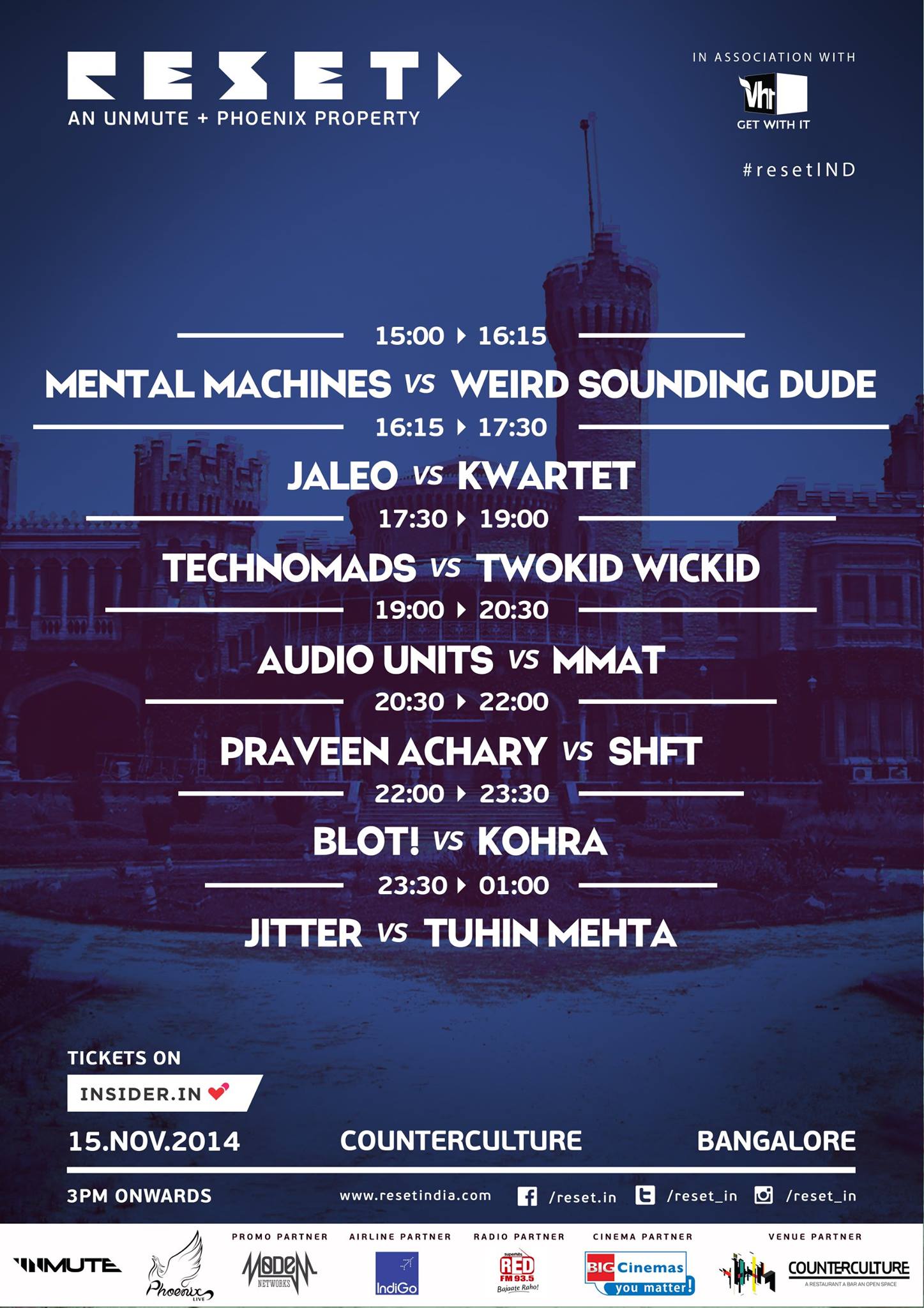 Feature image credit: Ronnie