Sebastian Mullaert is probably most famous for his recent success with his Minilogue alias, releasing the albums Animals & Blomma on Cocoon Recordings. For the past few years, he's been touring heavily around the globe both as a live performer with Minilogue and as a DJ under his own name. For the first half of 2014, Mullaert plans to DJ with a similar ethos style-wise to what is revered of Minilogue – delivered with his own feel for rhythmical journeys full of musical detail in melody, chords, and tones. Bhavishyavani Future Soundz was privileged to hear two remarkable sets from the Swede at Eden Festival.  Here are some excerpts from an interview he did with us during that time.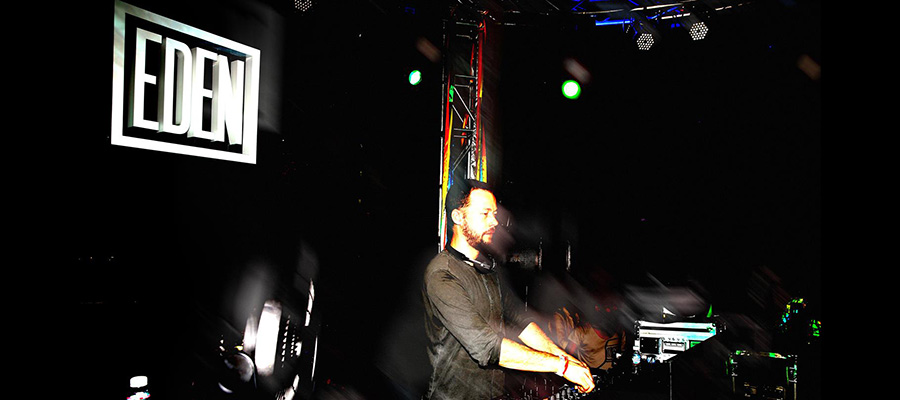 Everyone's talking about the gorgeously shot, passionately articulate video session you'll shot for Ableton. What did you think of it? For people from Bombay who usually think a 2 sq. metre patch is a garden, your studio location looked like paradise. Can you describe your hometown?
Yes, I can really understand that the Swedish scenario can look very different to people form other countries. Sweden is a pretty big country but we just have nine million people so there is a lot of nature to enjoy. I'm actually blown away by the work that Ableton did with that video.   I talked with them for a couple of years before we did the actual shoot, just to make sure that we were aiming for the same thing with the video. And for me that was to show a possible workflow to get in touch with your creativity and they really manage to show that.   I live in a little village just next to big forests and national parks, the studio in the video is located in the same village and I built the house last year. It was an interesting process, to take a break from studio time and work as a builder.
You consistently refer in interviews about how important "feeling" is while creating music and how laptops sometimes have too much logic going on with writing music. At what point did you get in touch with this feeling?
I've dedicated myself to a lot of meditation and Zen practice. I feel that the yoga asanas are a great way complement my Zen practice. I think that both Yoga, Zen, dancing, meditation and a lot of other tools can help us to come back to this very moment, stay here, watch what's happening and be one with it. Both in the studio where I let a creative process take place and on the dancefloor, where the same process can take place in the dance, my main aim is to be present and to give the opportunity to be present with others.
You're a classically trained musician who plays the organ, piano and violin. You were already teaching others how to play before you turned 18. What turned you towards music?
Art and music was always very supported when I was a child, both from my parents and the society I lived in. Sweden is amazing in that aspect, encouraging and helping children to practice music and art. My mother is an author and drama teacher, my father a teacher in psychology at the university. When I was a child, he also had two-week courses in creative psychology with the aim to help people to get in touch with their creativity. I'm very grateful that I had the chance to grow up like this.
Name two of your favourite jazz records. There are so many and so hard to pick. One of my all-time favourite musicians are Anouar Brahem, he's an oud player from Tunisia and so far, I'm deeply in love with everything he's done. Check out his album, The Astounding Eyes Of Rita. Another favourite of mine is the Swedish piano player Jan Johansson. His album, Jazz på svenska, is a classic and so good. It suits the Swedish nature scenario that you can see in the Minilogue [Ableton] video.
For the analogue sluts out there, what is some of your favourite music gear?
I try not to have a favourite. I just know that most analogue gear has something for you, if you just let it happen. What I would recommend is to combine an analogue synth or drum machine with a delay plus a couple of other Stomboxes and a very good reverb (like Bricasti M7) and then just jam. That's heaven to me.

After playing, producing, and performing with Marcus for more than 16 years, was it an organic decision to take a break from Minilogue? How different is your solo work and how much of Minilogue informs that output? 
Both Marcus and I felt that we wanted to express ourselves in new ways and we both support each other fully in this. I'm part of Minilogue so some things I do will, of course, have similarities with Minilogue and some things will not…right now I'm not sure in what direction my music will go. I try not to think about that kind of thing, and instead let it happen while being present.
What's your new vinyl-only label Wa Wu We about?
Wa Wu We was the name of a mix cd I released on Mule Electronics a few years ago. The name basically means oneness, symbolised as three circles. Wa means peace and circle in Japanese, Wu is the term for emptiness in Chan Buddhism symbolised with the famous Zen circle. We means us together and can be pictured with people holding hands in a circle.   The Wa Wu We is more like an art expression, the music and the cover are all really important and therefore I feel that it's great to keep it as a vinyl-only label. If you want to experience Wa Wu We, you have to dedicate yourself a bit.
Article written by Kenneth Lobo