New Delhi dance music collective BLOT! have been the talk of of many different towns in the last few years. Their sensory-packed A/V shows are a testament to the immersive and all-encompassing qualities of electronic music in a closed space, and their songwriting half Gaurav Malaker has just joined some fine company in becoming the first lad from the subcontinent signed to Diynamic Music with a single out last week called 'Empire Waste' (listen below; buy here). Today, he sheds light on things he hasn't before, taking us through the foundations of his career as a producer and DJ, the gear BLOT! uses when recording and performing, the value of authenticity in today's dance music scene, the contemporaries he admires, and also gives us a heads up on 2015 and BLOT!'s upcoming graphic novel and video game. This one's got the meat and the bones, hope you're hungry for some words.
भ | Congratulations on the single release on Diynamic! It's only been out a couple days since it's been available to the open market. Any word yet on how has the DJ community has responded?
The general consensus seems to be that the track is good and fairly different from the stuff I usually make – which is great, because I'm learning that no two tracks of mine sound the same, or perhaps even similar, probably as they are reflective of my state of mind in the time and space in which i made it. We're all great friends within the community, and I've got good reviews but I'm always suspicious (but thats just down to me being weird, hahaha).
भ | The winded, hypnotic, almost chokehold-like production and tuning on Empire Waste somehow screams Maceo Plex/Maetrik's sensibilities. He's always been an influence hasn't he? 
I'm really flattered that you think that there's something similar, perhaps more in the second half of the track? I've been following Maetrik since 2008-09; his stuff on Mothership & Triebstoff really intrigued me. He's huge now, and for good reason. His tracks are so phat that you can almost touch them (I'm told he uses some real badass analog outboard gear).
भ | There's a recent interview you did in which the author said "Malaker doesn't need to speak of his evolution." Well, for those not clued into Delhi's underground scene for the last decade, the ones not privy to your evolution, it'd be great if you did. So, tell us about how Gaurav Malaker the DJ/producer came about. But first, what was your lightbulb moment, the time you decided you'd go all the way in this music thing?
I realised I wanted to be a DJ in 1999-2000, when I was in class 10. I'd been seeing, and reading about, DJs and turntables and things and I was obsessed with the idea of being in control of the music. I've always loved gadgets and electronic gear, and despite how primitive the gear seems now, I was fascinated. Back when I started out there was definitely no way I could buy myself gear to learn on, and 'classes' were out of the question. So one day I just wandered into this shop that rented out speakers and DJ gear and asked them if they needed someone to play music or help them. I also had a gig or two every month, so that really helped my prospects with them as back then any business was good business. I was 15 and extremely enthusiastic and went to great lengths just to play music on the real shiny turntables and a really old Rane mixer just for ten minutes before the actual party started. It was so much fun. Cut to two years later – I struck a deal with my dad to buy me a Pioneer CD player (that I'd pay him back for); shockingly, he obliged. I used my tuition money to buy some blank CDs and printed a bunch of visiting cards and started out on my own. Six years and probably ten thousand crappy parties later, we started BLOT! while I was still studying law. They were still early days for me and I fortunately didn't drop out of law school, I wrapped up my degree two years later, got a job, made some money, bought some studio bits. Then quit law, and ANOTHER seven years later, here I am. I decided to give music a full time shot to save myself from living in regret because it's a very time-consuming affair, and it's really hard doing it part-time (especially if the other part is doing law).
When we started out as BLOT!, we just played electronic music. Not any specific style or sound, just everything. But back then it seemed pretty radical. It's only after a year of just tooling about that we started discovering what we wanted to play and developed an aesthetic of sorts. I really enjoyed these new minimal sounds that I'd had found online in 2007 and we started playing more sparse, minimal techno sort-of A/V sets. I started making my own music (after my share of tinkering about) in 2010. We released our debut album Snafu on Universal Music in 2013, and a few singles before and after. In a sense it's come around nicely because we're back to playing and producing what we like.
भ | I believe that there is definitely something such as bad publicity. There's a recent trend we've noticed. DJs play every party they can get on the bill for, give promotional control to people who aren't up-to-the-mark with it, pander to crowds that couldn't care less about what's coming out of the speakers, and along the way, get a whole lot of lip from other DJs for allegedly "selling out". What's your take on this so-called "selling out" in the dance music business?
Its tragically comic but the reality of being a full time performing (electronic) musician or DJ in our country is a relatively new concept in general, so the question of "selling out" loses its relevance, perhaps. To me, it's more a question of how far you'd go to ensure that you're doing what you love to do as a profession. This could mean different things to different people (as priorities differ).
Yes, there's great value in authenticity and integrity when it comes to music and the arts in general but one must consider opportunities with a certain sense of pragmatism too. The key lies in the balance, I suppose.
भ | This isn't your first time working with Suryakant Sawhney (of PCRC, Lifafa). You yourself rated 'Tatemae' as one of the best songs on Snafu. You both get on famously then? What does he bring to your musical landscape? 
Yes, we seem to work really well together, I mean, in terms of process and things. The end product usually shapes up okay, despite us being dramatically different, with polar opposite production styles. He's an amazing musician and his creativity is admirable. He's got a great voice, and great sensibility. It's a pretty rare combination when it comes to the execution and delivery of vocals I think.
भ | Outside of the music you listen to, where do you look for inspiration while writing?
I listen to a lot of music for my DJ sets and podcasts, and usually find something that intrigues me. But when its not the music, new technology and gear is a pretty failsafe way to get me writing. I love the power of possibilities when it come to synthesis and it is such a big, enchanted world out there that there's nothing beyond sometimes. Gigs play a huge role in the writing of my dance-oriented tracks; I try and channel my experiences into my production as soon as I wrap up a gig. Otherwise, as strange as it sounds, competitive sport and great sportspersons are very inspiring – they really push themselves to the limit.
भ | What gear do you use to record with? What's part of your setup when you play live? and what's the one piece of equipment you'd take to a desert island?
Admittedly I'm a serious gear junkie, and I work really hard to ensure that I can fuel my passion for great instruments and tools (much to the chagrin of those around me). While the nature of my setup is that of perpetual change – I'm currently using my computer DAW (either Ableton Live or Logic) as a multitrack recorder – I have all kinds of stuff going into an outboard mix desk. At present, I'm really into analogue synths and I have a bunch, including a Moog, a DSI Prophet8, a 1983 Roland SH-101, a 1993 Novation Bass Station, Access Virus TI2, an 808 clone drum machine, mics, voice boxes and things. I've also got some outboard vintage reverb units and compressors. Coming to think of it, I'd probably still collect these things even if I had nothing to do with music.
I haven't really been playing 'live' of late – I mean the term is used loosely these days (I think it's used to denote the artist is, like, alive and in front of you), very similar to the way musicians loosely use the term 'DJ set' – but the last time I actually played synths and did things in a genuine live performance format was on our album tour a couple of years ago and in Scotland last month for a sit-down performance. At the moment most of my performances are DJ sets (and sometimes A/V sets) and are some sort of hybrid combination of Traktor and/or Ableton Live with a small synth or something thrown in, plus a controller, depending on the context. My priority is always a stable and effective setup that will sound as good as it can, especially since the sound systems can vary pretty drastically from venue-to-venue. I've been working on getting an actual 'live' rig going with a couple of synths and drum machine as opposed to peering into my laptop on software, but thats a few months away.
I also really enjoy DJing, especially these days when everyone is so aware of what it exactly entails – makes it all the more exciting!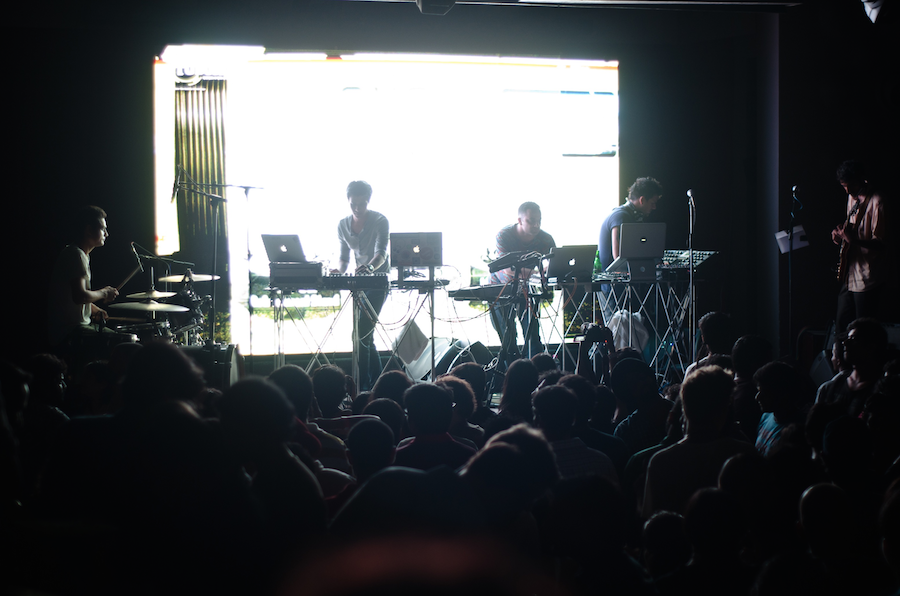 भ | Please name some of the producers, musicians you've always admired and looked up to.  Who  is turning you on these days in the dance music world and outside of it? 
I admire Avatism, David August, Agoria for their songwriting and production, and for the sound palettes they use. Then there's also KiNK, Trentemoller, Aphex Twin, Dixon, Mario Basanov, Skinnerbox, Stephan Bodzin, Oliver Huntemann, Pete Oak. It's easier to follow labels actually, since artists are exceptionally versatile these days and if it's a sound one is chasing, then you're more likely to find it within a label. I have a particular affliction for organic, but not necessarily natural sounds and I suppose the common tangent between all these guys is the timbre and characteristics of the sound they make to build tracks.
भ | We've heard there's a graphic novel and a video game on the cards, the idea of which gives me (personally) a big hard-on. Please tell us more. 
Antariksha Sanchar (Transmissions in Space) – The Graphic Novel & Game, is based on a speculative sci-fi story set in the early 1900s, about a prodigious scientist who rediscovers his ancient mystic roots in the temple town of Madurai. His journey eventually takes him on a discovery of the Universe and an alternate theory of creation (all figments of our imagination).
Ramanujan, the protagonist, happens to be extremely synaesthetic, and there is a lot of emphasis on audio-visual machines and contexts. Making the game is turning out to be an extremely arduous process, and since it's entirely self-funded (we're nearly broke), and it's our first venture of the sort, we're learning on the job, but again, sometime in early 2015 should be a good time to expect it.
भ | How's Qilla Records getting on as a label? How much time do you spend doing that versus doing BLOT! and of course, hanging out with the missus and by yourself?
Qilla is coming along quite alright actually, we're three years and 29 releases old now. It's usually slower in winter months as both Madhav (Kohra) and I are fairly busy in those months. Summer is typically when we focus on Qilla and set out schedules for release and stuff. Madhav does most of the A&R and I'm more of the silent partner (oops) but as long as our sensibilities meet on some common tangents, we hope to keep finding good stuff to release. People can send us demos too – demos@qillarecords.com
2014 has been all about time management or getting a hang of it (learning from the missus). Sometimes 24 hours seem insufficient, so I'm looking forward to next year and to removing the million 'To Do' post-its from my studio, armed with my new time management techniques (that don't seem to be working at the moment).
Listen to BLOT!'s last podcast,  hit their Soundcloud up to download it.
भ | What end-of-the-year plans does BLOT! have? And when shall we expect news of another solid BLOT! release?
Well there's plenty thats ready and going out as demos already. I'm really excited at the prospect of sharing my newer sounds (I finished 'Empire Waste' six months ago). There's Spartacus (EP) and What's That Feeling (EP) that should see the light of day in early 2015. The process of signing to a label, and the ensuing wait prior to release can take quite a while but it certainly beats (and is definitely more rewarding than) this new Facebook release culture, I think. I mean free music is great but I think for me right now, to sign to labels is important, its also honest validation of one work from people who are unbiased and it can be quite encouraging.